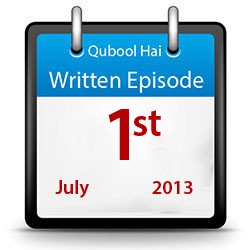 Ayan's House:
The episode starts with Razia is dragging the gunny bag which has Badi B when Ghafoor turns to look at her, Razia stands in front of the sack and diverts his attention , he thinks that she is worried abt Humeira and assures her that Humeira will soon be found out and leaves.Razia heaves a sigh of relief and ties Badi B in the store room. Ghafoors hears the noise from the store room and enquires as to who is inside. Razia comes out and tells a random story to evade , Badi B is unable to speak , Razia locks the door from outside.
At the dining table, when asked about Badi B, Razia tells everyone that she has gone out, Rashid calls up her cell but is unable to get through, he gets worried as none has any idea about her plans. Ayan comes there who is on call from police and informs everyone that a girl has been found on the outskirts of the city and she might be Humeira.
Asad's House:
A lady offers blessings to Dilshad and asks about Asad, he enters and she gives him blessings and ties a thread on his hand too.
At the madrasa:
Zoya is lighting the lantern when Asad passes by in his SUV, she comes out and Asad feels something and stops the vehicle, goes out , finds nothing as by then Zoya has gone in the house. Suddenly a bike hits a child and Zoya comes out, Asad sees her in the side mirror, sad Mitwa in the BG. She takes the child inside the house.
He tells the employee of the madrasa that he wants to meet a girl named Zoya. The employee tells him that she doesnt want to meet anyone, doesnt eat, sleeps on floor and is in pains.The man asks him why is that so, Asad tells him that a person has broken her heart and trust.He doesnt answer when asked what is his relation with Zoya.
A lady goes and calls Zoya , informs her that Asad Ahmed Khan has come to meet her, she gets shocked and then happy, runs out but checks herself and starts crying (sad female Mitwa in BG). Asad is sitting outside the madrasa and crying.
Finally he starts off the SUV while Zoya is crying and sees him leaving,breaks down.The man and the lady come out, Zoya tells them that if someone enquires about her again then tell that she doesnt live here.
Precap: Humeira back home, says she is not Humeira but Rajni Shukla. On the other hand, Tanu attacks Zoya, hits her and is burying her.